welcome to your life, there's no turning back
Once upon a time a photo appeared on my Facebook news feed. The photo showed a young woman, a girl really, probably not out of her teens, standing on a street corner eating something out of a bag. She was very fat, black, and dressed in too-tight, unfashionable clothes. (No, I'm not going to link it.) The caption under the photo invited viewers to make a one word comment and then share the photo. By the time it hit my feed there were hundreds of comments: "Horrible." "Fat". "Ugly." "Disgusting." "Shameful." "Pig."
Now, I am pretty picky about who I invite onto my friends list. It is short and doesn't contain anyone I don't know personally and consider something more than an acquaintance. A substantial number of people are friends I've known for decades, family members, and schoolmates. Most of them share my general life philosophy and if they don't, well, we are good enough friends to look past that. So I was more than a little dismayed when I realized that
one of my friends
had not only made a one-word comment but then shared that photo out and invited others to do the same. Over the course of the next few weeks it showed up again and again, each time shared by someone else I know and each time with another cruel one-word comment. Eventually the comment section expanded to include racial slurs and sexist commentary, along with the occasional attempt to defend the young woman and chastise the posters. These latter comments were usually met with something along the lines of "you sound fat." Because, you know, that explains
everything
.
I started wondering just how long it would be before the young woman in the photo, who literally was doing nothing more offensive than eating her lunch in public, saw that photo of herself and all the comments. I wondered what it would do to her. And I wondered about these friends of mine who felt entitled to make nasty comments about this stranger they know absolutely nothing about. And it's not just fat girls. It's beauty pageant contestants, atheists, goths, Tea Party members, trailer park denizens, liberals, religious conservatives, gay people, Wal*Mart shoppers. Many of these people constantly share their outrage over every other kind of cruelty; god forbid someone punch a dog, abuse a kitten, or shoot an elephant (all horrible things). They are vocally opposed to oppression of the poor, the hegemony of fast food, corporate welfare, and bullying (oh the irony), but they have no problem with calling a young woman a pig on the internet.
Not terribly long after that someone else I know shared one of those "instant meme generator" things that have become so popular, the ones where you supply a picture and add a funny caption and a new meme is hopefully born. The humor in this one depended on making fun of a famous woman's somewhat mannish appearance. I see that a lot these days. Another young woman is made fun of for
cosplaying as Lara Croft
and having the temerity not to look like a
videogame image
. An entire website exists to humiliate the customers of a certain big box store. Bloggers waste pixels snarking about actresses' haircuts. There are tumblrs devoted to mocking unattractive people who sign up for online dating sites. Kids bully each other on social networks and
occasionally the victims kill themselves over it
. Reasonably well respected media sites collect images of
overweight politicians.
A group on twitter runs a "
fat shaming wee
k", not to highlight the issue, but to encourage the practice. And more often than I would like this stuff is shared to my wall by friends and family who apparently think it is funny. I don't know. I do know that pointing out that making fun of people is kindergarden behavior got me me blocked from at least two FB accounts (/shrug). Apparently I have no "sense of humor" and need to "lighten up". But do you ever notice how
George Takei
and
The Frogman
and
Allie Brosh
manage to be hella funny without making fun of anyone, without shaming anyone, without being cruel? It is possible. A mean spirit is not a prerequisite for edgy satire or cynical bon mots.
I know I sound like a judgmental prig but really people, why? What do you get from this? How do you find humor in such cruelty? Obesity is indeed a serious health concern but fat-shaming strangers on the internet isn't going to do anything about that. How would you feel if an unflattering picture of you were pasted all over hell and back along with an invitation to humiliate you publicly? This isn't about satire or having a sense of humor. This about throwing stones none of us has any business throwing. I'm far from perfect, I've been known to get a good snark on now and then, and I've certainly done and said things I wish I could take back. But it has been a very long time since I gained any personal satisfaction or giggles from making fun of someone for the way they look. You are behaving exactly like the people you despise. Help me to understand this because I really don't and I am beginning to lose respect for you and and it is making me increasingly unhappy.
I know, I know. I sound fat.
[I wrote this a few months ago...but then my laptop broke and it was trapped in a place I could not get to it. It is recovered now, and here it is]

In the dream I'm at P____, a place I've been before, a place I go to a lot for serenity and quiet and escape. Only for some reason instead of being in the mountains it's at the ocean, someplace one could truly call World's End, far from everything, wild and dark and stormy, but somehow still serene. Maybe it's the remoteness, the dark sea and sky, the endless coastline washing away, and the green and white cabin nestled in trees and dune grass, with a light in the window like a beacon. In life, when I go to the mountains, to this small green cabin by a spring and a sycamore, I feel the world erase itself right about the time I cross the Potomac near Harper's Ferry, and the closer I get to the Great North Mountain the happier I feel. Nothing really seems to matter here but calm and solitude and good food. Sometimes the deer cross the meadow; sometimes I see a hawk lazily riding the air currents with no particular place to go and nothing much to do but enjoy the sun on his wings.
In the dream it was no different. Driving down the long coast road, an empty two lanes with dunes and grass passing on either side and shore birds calling to each other. No storm today, the sky is clear over the ocean. I crest the last bluff separating me from the sea and wind down toward the inn. It's different. Crowded. Lots of buildings, lots of cars, noise, lights, activity. I'm disoriented, confused. The cabin is ringed by a fence. The trees are gone. Low industrial buildings line the shore and they never turn the lights off.
In the morning, W___ invites me down to watch him feed the deer on the little island in the inlet (in real life the duck pond by the chicken house). We wander down that way. In the distance I can see a stag, running toward the fence. It staggers, falls. When we get close to the man wrestling it into the back of a truck he said it was only drugged, it's feeding time at the animal park and it panicked and ran and he tranquilized it. He mentions something about training it to take food out of peoples' hands or something but I look past him and all I see are cages of wild animals, deer and bears and wolves and foxes. The animals that used to live here on this shore and that I sometimes saw drinking from the little stream that winds down to the sea.
The stream is gone though. When we get to the island there is nothing there but a vast metal building and a dock. The sky is dark now and the wind starts and I don't hear any birds at all. W___ is gone and I'm alone. I walk out on the dock, the metal echoing strangely under my hiking boots. When I get to the end of the dock I look out over the sea. But the sea is gone too. At least I cannot see it. Spread out to the horizon as far as I can see there are ships. Gigantic metal ships, ominous in the coming storm and bristling with guns, cover the ocean in every direction and they are all heading for the metal complex behind me. Every one of them a Staberinde. Attacking? Coming home? I do not know.
It is quiet. The wind screams around me but I can't hear it and the ships make no noise. The whole world is nothing but dark sky and metal and smoke and when I turn away I cannot see the light in the cabin window.
…
I wake to a misty morning, the sun just touching the meadow beyond the pond. When I look out the window I can see deer at the end of the path, waiting for their corn. The peacocks are quiet but the roosters crow and a slight wind rustles the sycamore leaves. A flock of geese comes in low over the meadow and splashes down in the pond. Crickets and cicadas have started their singing. There are no ships, no lights, no metal buildings. All is well and I roll over and go back to sleep.
…
I think it's because I've been reading stories by Paolo Bacigalupi, the guy who wrote The Windup Girl. They are soulless and mechanistic and without hope. Nihilistic, is that the word I want? Whatever, they are not pleasant. They are all metal and sharp edges and anything that looks like love is squashed like a bug. Although they are good stories in the sense of art they are a chore to read. There is no chance the ending will be happy, uplifting, or even ambiguous. He writes about worlds where humanity is little more than a historical concept, not something that informs choices, emotions, life.
In any case, I've never had a metal dream like this before that I recall. It was distinctly surreal and sort of disquieting. It kind of won't leave me, even though the day is lovely and the mountains are fresh and green. Some tea, some cheesecake, a walk with the dogs. All is well. Or so I tell myself. All is well.
Oh, and now my PC is dead too? WT holy F??
I got the call just a little bit ago and now I don't know what to do. Pull the plug or...buy more time?

When I bought my house it came with some vintage appliances. The refrigerator was an actual Sears (not Kenmore) model and the stove, while not original to the house, was probably not far from it. Both worked perfectly despite being well in excess of 25 years old. (The stove was probably approaching 50). Within a couple of years the refrigerator starting running a bit loudly now and then. It still did a refrigerator's job like a champ. It kept stuff cold and didn't get all frosty inside the freezer. But it made noise and that wasn't acceptable to Dennis so we got a new one. The new one is OK but I doubt very much that 20 years from now it will still be plugging along. The oven eventually developed a problem with its thermostat. It was hard to get to keep a steady temperature and occasionally it would rocket up to a very scary heat level. The repair guy, after he finished admiring that I had a brand of oven he'd never even heard of, told me there was no way short of haunting vintage appliance dealers to get replacement parts for it. I actually tried this for a bit, checking the internet now and then for the brand, calling a couple of stores that looked like they might be useful, but eventually I got kind of scared that the oven would cause a fire. Then one day when I was adjusting one of the burners to make the flame more even something inside snapped and the smell of gas flooded the kitchen. And that was the end of the stove. The new one, a 36 inch (to fit the hole the old one left) stainless steel fire-breathing dragon, might actually make it a long time. It's very sturdy. But I wouldn't be surprised if it hits obsolescence before its 20th birthday. I don't think that anything I buy these days, whether it's a stove or a dishwasher or a stereo or a car or even a house will last as long as that stove did. Things just aren't built to last anymore.

This brings us to my laptop. I bought it five, maybe six years ago, about the time I started teleworking so that I could sit downstairs or even on the porch while I worked. It's a shiny titanium 17" MacBook Pro and it is without a doubt the best computer I've ever owned. I really only intended to use it for work but it's pretty much my downstairs computer now, the one I web browse on, watch anime on, sometimes edit photos on, the one I sit on the porch with. It has a really lovely screen and it's big enough that I don't get eyestrain and hefty enough to feel like it can take a bit of abuse. It's been to England with me and to Georgia and California. Unlike my netbook which is too tiny to sit in my lap and work on (very awkward for some reason) it's a perfect size for when I don't have access to a flat surface to lay it on. I just hooked it up to use it with my Chromecast. I love it unreservedly. And now it's dead.

A few weeks ago when I was up at my favorite bed and breakfast it stopped working. I was sitting on the porch of the cabin, under a beautiful old sycamore tree, writing something creative when it got to be time for dinner. I saved my files and closed the lid and after that it just never woke up again. It gets power but no video. After the shutdown was over I took it over to the Apple store where a Genius told me that it's probably a logic board problem and it's too old for them to fix. Apple doesn't keep parts for anything over five years old in its stores. (say what?) He was nice about it and only barely made an effort to sell me a new one. He recommended taking it to a computer repair shop and gave me the name of a preferred Apple business service. I took it over there on Saturday, left it behind, and waited and hoped.

The guy called me this morning and gave me the bad news. It is a logic board issue and the whole thing will need to be replaced and even if he can get the part it will be outrageously expensive. He doesn't recommend fixing it. He pointed out that probably in the not too distant future I won't be able to update the operating system anymore and that will limit the software it will support and it would be better to start fresh. He told me if I carried in my external hard drive they could copy over the hard drive to it so I wouldn't lose anything. He kept referring to it as a "vintage laptop" and it made me want to cry. I'm vintage, but that laptop is only five years old. It was quite expensive. It is in excellent condition. I've never had any trouble with it. Fixing it will be cheaper than replacing it but may not work or may not last for long. Something else inside it might break.

But that's the way it is. Laptops, even very expensive, very substantial, totally awesome ones just aren't expected to last more than a few years. It's a given that people will want or need to update them frequently. There's always something better just around the bend and once a manufacturer stops supporting older versions that's that. Truly replacing it isn't even possible and an approximation will be pretty pricey. Apple doesn't make 17" MacBooks anymore and and the nearest comparative model (15" and oh so sleek) starts at $1800 ($2000 if I want the hot new retina display). The 13" ones are cheaper but border on being too small. The Airs are too ephemeral. Then I think, do I really need a laptop? I could get an iPad and one of those nifty keyboard cases to snap it into and possibly it would work as well as the laptop for what I use the laptop for, which is primarily watching anime and writing. I do all my writing online now, everything saved to some cloud or other, so the teeny tiny hard drive space on an iPad isn't a huge issue. But the iPad won't run my photo editing software and I suspect it is still a two step process (camera to computer, computer to iPad) to get photos onto an iPad. And the screen, though lovely, is too small. In my heart, I can't really give up on the idea of fixing my old one. It feels wrong just to let it die.

And before ANY of you (yes, I am looking at YOU) tell me that I could get oh so much more for my money if I went with a PC laptop or an Android tablet, yes, I suppose I could. But I'd never love it like I love my MacBook. That's the thing, you see. Although I take issue with some of Apple's business practices (really? you are going to sell me a $2000 laptop and then not have the parts for it a mere five years down the road?) and sometimes even their basic philosophy (no one knows what I want better than Steve?, f'real?) I have never owned an Apple product that made me unhappy. My iPod is now old enough to be an antique in computer years, the cinema display I am currently working on is brilliant, the iPhone goes everywhere with me, and the laptop...well, the laptop was my constant companion during dark times and I'm really attached to it. Nothing Apple makes ever seems cheap or temporary and every Android phone I pick up, every PC laptop I use, even my desktop just looks and feels like the bargain-basement plastic it is. My netbook, which I bought for carrying when I travel and need something super light, is so cheap that I actually don't care if I lose it or it breaks. It cost a bit over $200 and it's fine for what it does but I never touch it outside of travel. It gives me no pleasure to work on it; it's just a tool. Whereas, the MacBook...just touching that smooth, cool titanium case brightens my day. And actually working with it was always a dream.

God, I'm really going to miss it.
Current Mood:

sad
I made the mistake of going into the office today. I have plants. They haven't been watered for a week. I don't want them to die, just another victim of politics...

Anyways, I drove in a bit later than I usually go into the office and there was hardly any traffic. At the office, I noticed the deli was closed. Although our buildings aren't entirely federal I guess there's not enough business to bother staying open and paying employees. There were only a handful of cars in the garage and I felt sort of sad leaving Miss Moneypenny by herself down there. The elevator came immediately and didn't stop until it got to my floor. It was dark up there. Only the emergency lights were on. I'm quite often in the building very early in the morning when it's pretty empty but I've never seen it this deserted. I was kind of creeped out by it; I felt like I was the only person in the world for some reason.

When I hit the lights in my office I almost turned on the computer out of habit. No point to that really. I shouldn't have any email and the databases have all been taken offline. Still the blank screen stared at me as I moved about the room. I felt...accused. I don't know. It was weird.

I had to walk down the dark hallways to the kitchen to get water for the plants. Every office was dark but here and there was the evidence of lives interrupted. The woman who had the baby shower a week or so ago...her cubicle was still decorated and the shiny metal spinny things hanging from the ceiling caught the minimal light and flashed colors at me as I walked by. A bouquet of flowers on her desk was wilted and forgotten. There was a pile of papers on the copier, a shopping bag from the mall next to someone's door, and sadly enough, still food in the fridge. I was alone, or at least I thought I was but then while I was standing at the sink filling my watering can someone walked by the door. A total stranger, in a suit, carrying one of those overstuffed bags that made me think he was probably a computer guy, walking around in a dark hallway on a completely empty floor in a nearly empty building. It freaked me out so much I hid from him and snuck around corners as I went back and forth from my office to the kitchen and back. (there are a lot of plants to water...). I have no idea who he was but the thought of someone else being on the floor was eerie.

I finished up watering my plants and the plants of some of my coworkers. And then I was done and I sat there and wanted to do more but couldn't think of anything else to keep me in the building so I left.

I shouldn't have gone. It was horrible.
It's day 7 of the Federal government shutdown and I might be running out of home improvement projects, at least those I can do without incurring costs I'm reluctant to incur until I know when next I will receive a paycheck. Also, I miss working and messing with numbers and I might be going a little stir crazy. So I decided do a little science project. First though, some background.
Last week, on the second or third day of the shutdown, I went with some friends to Annapolis to eat crabcakes and drink the biggest milkshake I have ever seen, or ever want to see. On the way back to the car we passed a Tervis Tumblers store. For those of you who, like me, have never heard of Tervis, they sell insulated cups and mugs and such. Apparently these are the best cups in the world. They don't break, are BPA-free , are dishwasher and microwave safe, and keep things hotter and colder than other, lesser mugs and cups. My friends, normally sober and rational sorts of people, went nuts for this store so we went in and spent some minutes looking at the millions (slight exaggeration) of mugs and cups on the shelves and walls. They are all decorated with cartoons, sports logos, flowers, animals, bright colors, Hello Kitty, Betty Boop, geometric designs, and what have you. My friends soberly and rationally picked out half a dozen or so mugs and cups, while I settled for one dark grey coffee mug. (I need one for work that won't crack.) It was a bit pricey for a coffee mug but I'm assured I will love it above all things and that it will keep my tea piping hot for an abnormally long time. I've had tea out of it a few times now and the experience is OK. I'm not transported into anything approaching bliss and I've yet to accidentally burn my tongue on tea that is hotter than I expect (I was warned this is a hazard). But the cup doesn't taste like plastic and is a good size. Also, although the inside of the cup is pretty hot the outside gets warm to the touch at most so that's nice.
It's raining this morning and so my planned yard work can't happen. While making tea this morning I decided to figure out if the fantastic new mug actually does keep water hotter longer than an average mug. So, here comes the science!
Method: 5 mugs, four ceramic, 1 Tervis Tumbler. Two of the mugs were the same general shape as the Tervis mug but a little smaller (Mini, Aperture); one is white (Mini), one is black (Aperture). One ceramic mug is black outside, white inside and shaped a bit like the Tervis mug and holds the same amount of water (Las Vegas). The last ceramic mug is a generic white column mug that holds the same amount of water as the Mini and Aperture mugs (Heroes, because it has comic heroes on it). These were selected because they are either the same size or the same shape as the Tervis mug and because I was curious as to whether mug color would make a difference in heat retention. The Tervis mug is a dark grey plastic. Mugs were at room temperature and clean at the beginning. Water was heated to boiling and 1.5 cups of water was poured into each mug. I used a candy thermometer to establish that at 0 minutes all the mugs were at 180 F. The water in each mug was retested every five minutes for an hour. Each mug was retested in the same order each time.
Results: My original plan was to measure the water for one hour or until the Tervis mug hit 100 degrees. The other mugs hit 100 degrees at 45 minutes; the Tervis was still over 100 degrees at one hour and was throughout the measurement period hotter than the water in the other mugs. There seemed to be no differences among the other mugs based on size, shape, or color.
Discussion: The Tervis mug consistently kept the water hotter longer. From the first measurement at 5 minutes to the last one at 60 minutes, water in the Tervis mug was consistently warmer than the other mugs, usually by 10 degrees. Of course there are some caveats. Obviously, if this were Real Science, I'd have used something other than a 30 year old candy thermometer for my measurements and the measurements would be metric. I am too lazy to do the conversions. I should do some replications, perhaps with different mugs, or with some other plastic cups, which I don't have, or with other types of hot beverage (coffee, hot chocolate). I should also probably see how it does with cold beverages. Despite the obvious superiority of the Tervis mug I remain unconvinced it was worth the inflated price, although I can estimate that with the observed frequency of mug replacement at work (three in the last 23 years, due to theft once and glaze cracks twice) and the increasing cost of ceramic mugs, I will only need to lose one more mug before the Tervis becomes cost effective. On the other hand, my current ceramic mug at work has about 7 years to go if it survives the average length of time the others did. At this point it becomes a quality of life issue and who can place a price on hotter tea for longer?
Perhaps I should apply for a grant to explore this further. D'oh!
God, I am so bored. Can I go back to work now?
Sometimes I wonder if all these people who think government does nothing but spend their tax dollars on surfers who won't work and and putting golden toilets in the Congressional staff restrooms (I made that up) would do if government really and truly closed. And I do mean really and truly. The first thing that would affect most of us is no more air travel. The air traffic controllers are federal employees. No federal law enforcement, no Border Patrol, no FBI, no ATF. So no gun permits and no guns for you "collectors" and "hunters" out there. Close the VA, military, and NIH hospitals and force their patients into already overburdened public hospitals. Close our embassies, ports, and borders. Recall the military and the Peace Corps (wait...no way for them to get home and no embassies to turn to). Stop collecting taxes (yay!), conducting audits (yay!), issuing refunds (wait...what?). No more subsidies, not to big oil corporations, giant pharmaceutical companies, sugar farmers, dairy farmers, or small businesses. No school lunches for poor kids, no milk for babies, no Head Start. No FHA loans, no student loans, no small business loans, no Pell Grants. No food stamps. No National Parks. Stop all federally funded research (medical, military, engineering), all federal inspections (food, drugs, highway and infrastructure), any federally supported projects (highways, public transportation, bridges, ports, etc). Close clinics, suspend disability payments (many of which go to those sainted veterans), stop worker's compensation. Suspend OSHA inspection of workplaces, mines, factories, and other places that might pose a hazard to their employees and the public. Federal prisons would need to empty. The courts would have to close. No SEC, no Federal Reserve, no money printed or coined. Turn off the lights and water in all government buildings, including the Capitol and the White House. No FEMA, no disaster relief after fire, flood, hurricane, tornado, earthquake, and no NOAA so no early warning about many of these things. No National Guard, no Reserve, and the big military academies (West Point, etc) would have to send their students home. No NASA and to the extent that the federal government funds communications and GPS satellites they'd have to go offline.
Anyways, enough speculating about the ugliness of total anarchy. I woke up this morning and checked the news to see if there is any chance at all I will be able to go back to work soon (there isn't) and I find this little gem:
Republican National Committee will pay to keep WWII memorial open
Apparently in the face of everything else it is just an
outrage
that a bunch of feisty old veterans have to
break the law
to visit absolutely the ugliest memorial on the Mall. Why the hell is this more disrespectful than denying any other tourist who spent time, money, and effort to visit our nation's beautiful capital access to the monuments and museums? Or to a bathroom or drinking fountain, for that matter? Yep, all the bathrooms and food kiosks are closed and the only working drinking fountain I found was on the grounds of the Capitol. Possibly I am getting a little tired of all the fetishizing of the military and veterans we indulge in. But that's not really the point. The point is this: You wanted to close the government. That action implies a certain amount of pain, not only for furloughed employees and their families (and let me tell you, there are a LOT of families here with two federal wage earners) but for everyone who interacts with the government or depends on it in some way. "Closing the government" doesn't mean getting rid of politicians or their dithering, it means public parks in DC are chained shut, the souvenir stands on the Mall are closed, bathrooms are locked, events are cancelled. It means the Mall is a ghost town on a beautiful fall day. And it means that some old guys may not get to do anything they want.
So, you know thank god for the RNC and its priorities. Because making sure that a bunch of doddering old men get to see an unattractive and profoundly uninspiring hunk of marble is more important than feeding pregnant mothers and their children.
WTF, people, WTF?
I don't know why people I've never met hate me but it's been the case for nearly 25 years now. Usually I don't care. But sometimes I stop to puzzle on it and I always come up perplexed.
When I was sick, I took my laptop to the hospital with me so that I could work. And I did work, a few hours every day, at least until I was sucked into the black and soulless maw of the mental health care machine and they took the laptop away. Even then I used one of the few phone calls I was allowed every day to call my boss and coworkers and make sure that everything was covered. During one stay I participated in a four-way two hour long teleconference with my coworkers so that I could train the person covering my work while I was away.
Surely I'm unique. Except that I'm not. I've worked in and with the private sector and to be honest, I've never met people who work as hard as the federal government people I work with. We work extra hours all the time, go outside our job descriptions for the people that depend on us, come in early, leave late, check our email from home, text meeting details while we watch TV with the kids. We don't ever stop working. It has been YEARS since I've gone on vacation without a phone or laptop so that I can reach work and work can reach me. I've logged in and conducted business while in Japan and England and Vietnam, while visiting the National Parks that are closed today, while sitting beachside or poolside. I don't do this for gain; I am paid no extra money for doing it. I love my job and I am proud of the work my agency does and I will gladly do what it takes to make it work well for my customers (you, the American public). And absolutely everyone I work with feels the same way.
But you hate me anyways. I'm lazy, shiftless, rude, incompetent, entitled, paid too much, sucking at the taxpayers' teats, wasting your money, given job protections that you don't enjoy and health care that is better than yours. My job is a meaningless, make-work-spend-money extravagance that is of no benefit to anyone but me. You are angry and I am the target. And I cannot understand why. You make these assumptions about me without ever having spoken to me or seen what it is I do. It is as if people believe that I do nothing but sit on my ass all day thinking of ways not to work. Even now, when I am legally proscribed from doing any work at all, I am using my few hours of mandated time devoted to "orderly shutdown" to make sure pending projects are completed or left in as near a completed state as I can get them, so that when we come back there will be minimal delay in getting the information out to the people that need it (one of whom is a Congressperson who sent their request 5 hours before the shutdown). Everyone I work with is doing the same thing.
"But we don't need government", you say. "Shut it down," you say. OK, well you got what you wanted. And here (among other things) is what happened:
-All National Parks, monuments, historical sites: closed (all 368 of them, all over the country)
-Smithsonian museums, the National Gallery of Art, the National Zoo: closed (no panda cam!)
-Federal offices, including Presidential and some Congressional offices: closed
-Most Federal agencies: closed or offering limited services, wherever they are located (if you think this just affects Washington, you are wrong)
-Many government internet and databases are powered down and any transactions submitted via government websites may not be processed. Social security checks and military pay will go out but may be delayed. If the shutdown lasts to the end of the month though, active duty military and civilians, retirees, and veterans could be out of luck.
-Passports/Visas: most likely delayed, along with small business loans, gun permits, and anything else that needs to be processed by employees who've been furloughed or that normally take in place in closed federal buildings
-Federal grants, loans, subsidies: mostly won't be paid or will be delayed (depends on the agency)
-An astonishingly large chunk of DC city services, including garbage collection and the DMV: stopped (the city can't spend money without Congress' permission)
-WIC: shut down (the fuck you say? no milk and cheese for babies?)
Many of the agencies that aren't closed immediately will close as soon as previously appropriated funds run out, including the courts, the SEC, and some regulatory agencies. And then who knows?
"Well," you say, "So what? None of those services are vital. Shut em all down; let God sort em out!"
I can tell you from experience, because I was here for the last shutdown, that just as soon as something affects you personally (late Social Security check, closed park, shuttered DMV, understaffed flu shot clinic, delayed loan application or disability claim, stopped road work, nonfunctioning web site or inoperative information call center) it will become a vital service and you will demand, DEMAND that your government make that available to you immediately. What? Did you think government services don't touch your life?
At least 800,000 people will be out of work for an indefinite time (I don't really know how many contractors this will affect). Even those of us who are working don't know when we'll be paid and those of us who aren't working (through no fault of our own) may not be paid at all. We won't shop for new things or go out to eat or to see movies. We will put off the home renovations and the preventive doctor visits. Contracts won't be signed, loans won't be made. Kids might not get those new shoes or go on the field trip with their class. Vacations we may have planned and paid for are cancelled and it's unlikely we'll commit to plane and hotel reservations. We will, as someone on Facebook exhorted me, "make do with less," and the rest of the country will take a hit for it. My new found freedom to sit at home and fret about all the work I should be doing will cost the economy $1 billion a week. A month long shutdown may cost $55 billion dollars.
This will probably sound stupid to you but I went into public service because my parents raised me right. Government is not a business, it is a service. It's not incredibly well-compensated because the privilege of serving the public good provides compensation in and of itself. I am not kidding when I say that I am proud to serve my country in this way. I meant every word of the oath I swore when I took the job (which, incidentally, is the same oath that members of Congress take). I and everyone I know want to do the work we are paid to do, that we are proud to do, work that benefits you directly and indirectly in ways you will probably never know. I believe that what I do is important and it is painful for me not to be able to do it.
"Whatever," you say. "You have a vested interest. Of course you'd bathe government service in the golden light of honor and self-sacrifice."
To that all I can say is this:
"There is nothing more fulfilling than to serve your country and your fellow citizens and to do it well. And that is what our system of self-government depends on." -- President George H.W. Bush
In a few days or maybe weeks,I will be back at my desk, doing my job,
for you
. You will still hate me. And I will still not know why.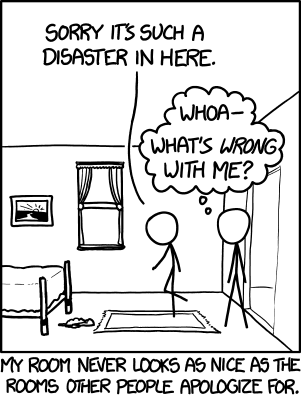 Oh my god, it is so very very true... every time I go into someone else's house...
Things started out OK, but then they usually do.

I did a bit of yard work this weekend. Actually a lot of yard work. It was a beautiful weekend for it and it desperately needed to be done. About halfway through the day on Sunday, as I was preparing to bag up the last of the ivy I'd trimmed, I started getting a headache. Not a bad one, just one that hinted it might be time to call it quits, have a beer, maybe play some WoW or something. So I finished up, put the tools away, went inside and decided to relax with some Fallout for a bit. (I started a hardcore New Vegas game recently; it's kind of a bitch.)

The headache just slowly got worse, to the point I couldn't sit at the computer or read. I went downstairs, watched a bit of anime (Stein's;Gate, really good, really sad), headache kept getting worse, to the point that even looking at the TV was impossible. I finally gave up and went to bed. I didn't sleep much; I was in too much pain. Nothing helped, not the Benadryl, not the Aleve, not the Advil.

By morning on Monday I realized there was no way I could work so I called in sick. By noon I was alternating between sweating and shivering with cold and the headache was no better. I couldn't lie still for long because the pressure on my head would become unbearable and I kept moving from bed to bed to couch trying to find a way to be comfortable. I alternated between piling on blankets and kicking them away, putting on sweaters and tearing them off as the sweats and the shivering cycled. My eyes hurt. Literally. If I touched them they felt distended and swollen and stars bloomed in my vision and the pain was like fire. I kept thinking I must have a fever but every time I felt my head it was cool to the touch. Normal. Not even damp.

And then the hallucinations started. Yep. Vivid, relentless, obsessively repetitive hallucinations about all sorts of weird shit, work stuff, anime stuff, book stuff, game stuff, life stuff. As soon as I closed my eyes they'd start, it was like going into instant REM sleep. Endless repeating visions of something, anything, numbers, images, voices, random colors. I'd snap my eyes open to get them to stop and look at the clock. Another 10 or 15 minutes would have passed and that's it. I spent all the rest of Monday and all day Tuesday like this, roving from bed to couch to bed, huddling in blankets, taking off everything just to feel cool air on my skin, trying not to touch my head to anything too long, and looping through mindless, meaningless exhausting visions.

Tuesday morning I managed to call and cancel the maids and call in sick again to work, although I think I babbled more or less incoherently each time. I managed to feed the dogs and cats, although the dogs ran out food (I intended to get them some more on the way home from work on Monday…) and got to eat cat food, which they loved. It's like getting a bowl full of treats for dinner. I managed to put them out regularly. I managed nothing else. No food, very little water. A bathroom break now and then. I didn't fall down the stairs in any of my random perambulations.
Tuesday night it all just...stopped. The hallucinations, the thermoregulation issues, all of it. The headache turned from a "hammer of an angry god" headache to a "I'm really dehydrated and hungry" headache. I got up, had some herbal tea with lemon in it, ate a little broth, and checked my email for a few mintutes. I went to bed, slept fairly well, and managed to do a bit of work on Wednesday (yesterday). And today I'm fine. More or less. I still haven't had much to eat and my head feels a bit fuzzy and I'm easily confused but I'm clearly past it.

I just have no idea what "it" was.